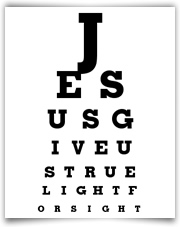 I wanted to kick off Coffee 4 Missions' Blog and Devotional area with this short message taken from Tony Evans' book I am reading now, "What a Way to Live: Running All of Life by the Kingdom Agenda".  Enjoy! ST
"God's kingdom is lived from the perspective of heaven, not earth. That's why Jesus said, "Seek first His kingdom and His righteousness; and all these things shall be added to you" (Matt 6:33). The pagans may run after the physical, visible stuff (v. 32), but we are called to prioritize God's kingdom.
See, if we lose sight of the kingdom, God's realm get's lost and we start going after physical things. When that happens, we're going to be skewed in our judgement.
Jesus said earlier in Matthew 6 that if you are not clear on the kingdom – the things of God – then you are spiritually blind (vv 22-23).  And if you're spiritually blind, then your feet won't know which way to go.
Spiritual blindness affects not only your eyes but all of your life."